MARSHALL DEFENSE INDUSTRIES
Name

Marshall Defense Industries

CEO

Atticus Marshall

Combat

Technologically advanced soldiers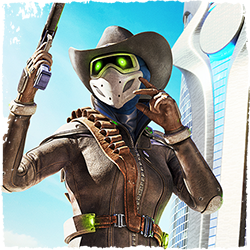 DOWNLOAD SOCIAL PACK
A private military corporation known for its advanced weaponry, loose morals, and "shoot first" mentality, Marshall is one of the most profitable—and most dangerous—companies in the world.
They have government contracts across the globe, stalwarts of the Cold War military-industrial complex. Their mercenary teams provide clients with black-ops, wetworks, and… well, "war crimes" is a strong word, but it's not entirely inaccurate. Their army of lawyers is just as deadly in the boardroom as their soldiers are on the battlefield.
And with the technological advances being churned out by their R&D department, they can confidently claim the edge in any conflict they get involved in. Marshall moved their HQ to Santo Ileso in the 1980s when they acquired several major defense contractors in the region. Though most of their business is international, they have many local clients–banks, casinos, museums, shopping centers, as well as city and county governments—for whom they provide private security and related services. This is not just a revenue stream.
It's also good marketing. After all, Santo Ileso isn't the most stable of cities; if Marshall can't maintain peace in their own home town, how can they convince international clients they can maintain peace in an occupied territory? This means that the security services Marshall provides for local businesses… aren't always entirely voluntary. The line between "private security" and "protection racket" can be pretty thin.
None of this, of course, is the face that Marshall presents to the world. Thanks to Marshall's relentless PR team, they have a sterling public reputation as investors, innovators, peace-keepers, and civic-minded philanthropists. That's their story, and they're sticking to it. At gunpoint, if necessary.
Leader
Atticus Marshall
Atticus Marshall may play the part of an old-time, folksy, gentleman rancher, but don't let that fool you. He's a cutthroat businessman and a raging narcissist. Get on his good side, and he's your best friend; say one thing he doesn't like, and he'll destroy you. He talks a good game about gentility, honor, and decency, but talk is as far as he goes; at the end of the day, people are entirely expendable to him. As head of the massively successful Marshall Defense Industries, Atticus sells advanced weaponry, high tech military hardware, and full blown private armies to individuals and governments around the world. Which means he's got both the money and the power to bring down anyone who gets in his way…
THE IDOLS
Name

The Idols

Leaders

The Collective

Combat

Strength in overwhelming numbers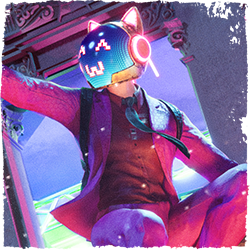 DOWNLOAD SOCIAL PACK
The Idols are an anarchist cult, intent on bringing down "the system"—i.e. the entire social, cultural, political, and economic structure of the day—through acts of violence and mayhem. What, exactly, they intend to replace that structure with they're a little fuzzy on.
But man, oh man, do they want to bring it all down. And they have chosen Santo Ileso as the place to make their statement. The crimes of the Idols range from the sublime to the ridiculous. Anything from petty theft and acts of vandalism to kidnapping, assassination, and even bombings are fair game.
As devoted anarchists, they do whatever the hell they want; as long as none of their fellow Idols get hurt, they consider it a blow against the system. The Idols are legion and growing. They recruit constantly, using parties, raves, and social media to spread their message and bring in new members. They may not all be true believers—indeed, the majority of them may be a little unhinged. But that's all right. Together, they have more than enough manpower to threaten any other faction in town.
Like any cult, the Idols encourage their followers to shed their old identities and embrace the cult's ideology. The Idols employ this technique to the extreme. The higher one rises in the Idols, the more of their identity they shed until their faces are covered and their names discarded. Their individuality is sacrificed to the whole—which the Idols believe is their key to victory. Individually, they are single drops of water, striking harmlessly against the oppressor like rain. Together, they are a flood that will scour this world clean to its bones.
Leaders
The Collective
The Collective are the six masked and mysterious ringleaders behind the anarchy of the Idols. Having shed their true identities in service to their cause, they are identifiable only by the unique pattern on their digital faceplates. They are not only determined to bring down the corrupt society they see all around them, they also see themselves as the shepherds of the Idols flock, their ever-growing cult of devotees. Like any cult leaders, they demand that their grip on their followers be absolute. And with this army at their disposal, they can lead from behind, sending their minions out to wreak indiscriminate havoc while they reap the benefits…
LOS PANTEROS
Name

Los Panteros

Leader

Sergio Valez

Combat

Tank-like strength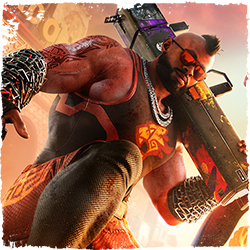 Download Social Pack
Los Panteros are the original, home-grown street gang in Santo Ileso. Obsessed with strength and car culture, they control most of the core criminal activity in Santo Ileso: auto-theft, drug trafficking, protection rackets, smuggling.
All the classics. The streets of Santo are their home, their turf, their city. They grew up here. They own this town. As far as they're concerned, everyone else is trespassing. They'll be tolerated so long as they stay in their lane and pay their respects (and a cut of the profits); anyone who doesn't is in for a truck-load of trouble.
Above all else, Los Panteros respect raw, physical strength. Their obsession with vehicles is both practical and symbolic–their muscle cars, motorcycles, and monster-trucks are the base of their power, serving both as assets for committing crimes and weapons for smacking down anyone who needs to learn their place.
They are constantly engaged in tuning their cars for optimal performance. They also use them as a form of artistic expression, a way to display their "panther pride." Cars are a source of personal prestige and status within Los Panteros: shoot someone in the face and they're dead; fuck with their car… and they're nobody.
Los Panteros treat their bodies no different than their cars: they are both assets and weapons, as such, they spend as much time working out to keep their bodies in shape as they do tuning up their cars. They also treat their bodies as a source of personal expression, displaying their panther pride through elaborate tattoos.
Los Panteros make their fortune primarily by moving contraband across the US-Mexico border to major cities around the country. The nature of the cargo is unimportant–if the price is right they'll haul the load, be it drugs, weapons, stolen antiquities, or fugitives. And they will not hesitate to run down anyone who gets in their way.
Leader
Sergio Velez
Sergio Velez is head of Los Panteros, the muscle-bound kingpin of the Santo Ileso underworld. He consolidated power to establish Los Panteros as the dominant street gang in the city. His control of the faction is built on a combination of physical intimidation and sheer strength of personality, which he has used to turn something that was once a neighborhood street gang into his own personal crime syndicate. He will not tolerate disobedience or disrespect, either from within or without. Anyone who makes him look bad is going to find themselves staring down the barrel of the full force of Los Panteros…