What is Doc Ketchum's Murder Circus?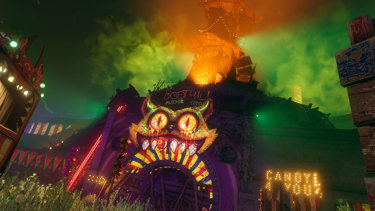 Let's dive into the new solo mode
Doc Ketchum's Murder Circus is tantalisingly close – we can taste the blood soaked dirt already. But what is it?
Murder Circus is Doc Ketchum's own brand of viral brutality – streaming the best (at murder) of Santo Ileso going up against each other in a horde-style battle of skill, perseverance and outright violence. Set on New Birmingham Island (or Boot Hill as it is more commonly known), Doc has revamped the area since the "Aggressive Recruiting" mission to create his own underground game show sensation.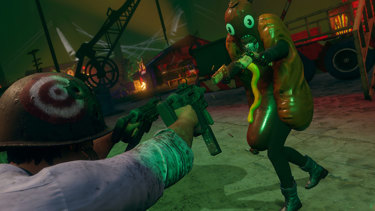 You play as one of four contestants. The Boss has already aced it, so it's time to put some new skills and combat styles to the test. There's a former cop out for justice, the rightful heir to the Panteros who's jonesing to take over, a big game hunter after his biggest prey yet, and a Murder Circus superfan who somehow got added to the roster. Each contestant has their own "Rival" - an ultimate boss they will face when they max out their level to truly test their mettle in this battle for infamy.
Players will compete for loot held in Caskets of Chaos, but as soon as you open them, others will want to kill you for it. Fight off the enemies to win the loot and progress your level. Win or lose, each battle will earn you BootCoins; Doc Ketchum's very own currency that you can use to buy yourself perks, increased chances to get certain weapons, bonus XP and upgrades in the BootCoin Emporium. These are not microtransactions for those of you worried – just in-game currency that can be earned. Level up your contestant to get access to more to give you a little help to fend off the grim reaper. Use those coins wisely, contestants!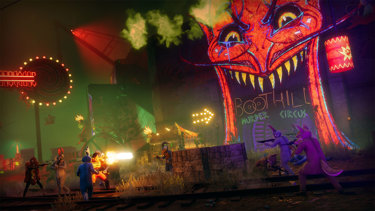 You'll find chests throughout the island, often already being fought for by other contestants in the Murder Circus. Fight your way through and open these to get weapons and skills.
You can play as many rounds as you like, so Murder Circus is truly the gift that keeps on giving. Plus, the rewards you earn in this mode by completing missions and challenges will carry over to the main game such as cosmetics, HQ Collectibles and weapons so you can take the fun right back into Santo Ileso proper. This doesn't include perks and things earned in the BootCoin Emporium. So roll up roll up – lets get this show on the road, Doc Ketchum's Murder Circus is coming to town this July!