Santo Ileso News
CHARACTERS, CUSTOMIZATION & CO-OP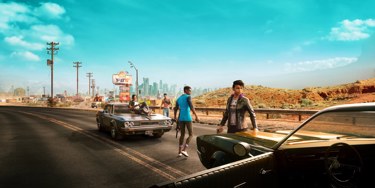 Hello Saints!
It's been a couple of weeks since we announced Saints Row, we've been looking at all of the various responses and the questions that have come up. Rebooting Saints Row is a big change, and change is never easy, but we set ourselves the mission to build the very best Saints Row game we've ever made, and we're confident that for longtime and newer Saints Row fans, there's something for everyone in what we've created.
Saying that, we also wanted to answer some of the common questions we've seen. This is a Saints Row game through and through, and that brings a lot of opportunity to create and show off new things. We also see that you really want to see more of what the game looks like in the moment to moment gameplay, we're busy readying some things behind the scenes and look forward to unveiling them when ready.
Criminal Characters
This Saints Row reboot is a great opportunity for us to give you the chance to actually grow your own criminal empire from scratch, while leading your gang to become the Saints! This is something we've not been able to pull off before, because you as the player were joining a gang that already existed, and let's face it; it was crucial for us to introduce new characters as there were some huge changes in Saints Row IV. The Saints became masters of time and space, and we always knew we wanted to do something new.
When creating the new characters, we wanted to have real criminals that are also relatable. It was important they had the raw skills needed to start a criminal organization, but they also needed to start from the beginning. These aren't grizzled characters deep in their criminal careers, but rather are at the start of their journey. Plus, it's always the ones you suspect the least who are often the most dangerous.
Disillusioned with the American Dream, trying to make ends meet and sick of working for other gangs, our new characters decide to use their skills to start their own criminal venture, take over the city and get rich. During this journey they take over more and more of the underbelly of Santo Ileso, and that's when you start to notice some visual changes.
A lot of you have been asking, what happened to the classic Saints fleur and purple? Rest assured, these are still very much part of the Saints' identity. We begin by showing the Saints at the start of their criminal journey, over the course of the game they form the Saints and rise to the top of the criminal underworld, reaping rewards and recruits along the way. The further they go down that path, the more you'll see the purple 'uniform' come into play, and the more visually adorned with purple and fleur de lys the Saints, their HQ, and their recruits become.
More on that later, but we're really pleased that for the first time, we're giving players the opportunity to create and witness the birth of the Saints.
Here's a bit more about our new Saints:
Neenah is the best getaway driver in the business and has a long association with Los Panteros. She wants out of the gang life but leans into it for the sake of her crew. Neenah has had a deep-seated love of cars all her life and knows them inside out. When it comes to getting her hands dirty, Neenah is a natural.
Kevin is part of the Idols when we first meet him, he knows how to get attention and make some noise. He's their top DJ and people pleaser who knows the guy who knows the guy; he loves people, is super loyal to his friends and he'd do anything for them. Loud and brash, he's also a thrill seeker.
Eli is a business mastermind, making money is more important to him than the moral issue of how that money is made. Eli is driven and determined, and doesn't mind too much if a few people get hurt along the way. He came to Santo Ileso to make his fortune as an entrepreneur, to build a business for himself. He just didn't realize at the time that the startup he was going to build was a criminal empire.
Finally, the Boss. Regardless of your look you are the ultimate murder machine, that shoots first and asks later. The Boss is over-confident, and doesn't do well following orders. Ultimately the Boss is you – you get to decide who you want to be and do things you want to do, become Self Made and form the new Saints. Of course the customization options allow you to literally make the Boss how you want them to look and speak too.
All our cast begin their journey with either a police record, gang affiliation, or aspirations to a life of crime – but it's together with you as the Boss-to-be, that they begin the remarkable journey to become THE SAINTS.
Best Ever Customization
Saints Row wouldn't be Saints Row without customization, so of course this game will have tons of customization! We've built the biggest customization suite of any Saints Row game; we have the most in-depth character creator ever seen in a Saints game. You can create exactly who you want to play as – whether that's a stone-cold killer or a fantastic looking freakshow. There are eight customizable voices you can give to the Boss – four male and four female – all sound great, and again more choice than we've offered in other Saints Row games. And also, you'll be pleased to hear, layered clothing is BACK! Well done to the eagle eyed of you that picked up on that. In terms of vehicles, we have a HUGE array of customization options to dig in to – and any vehicle you customize will be safely stored in a garage. There's a lot to look forward to and much more to come, including some big surprises that we can't share just yet, as well as some features that are sure to make jaws drop.
New Setting, New Tone
Saints Row is definitely a Saints game through and through, and a game that features that classic Saints humor we all know and love. Now obviously we've rebooted the series, so there are some changes you'll notice as well as plenty of easter eggs and cameos to hunt down. The setting of Santo Ileso is a vibrant, fictional city in the heart of the American Southwest; you get to live the fantasy of building your own criminal empire in a brand new huge open-world. As it's a new city you'll see some familiar and recognizable stores, plus a whole host of new ones. Santo Ileso also has its own set of radio stations, but you can still expect that Saints Row brand of excellent music taste. We'll talk more about the music in the game at a later date, so definitely something to look forward to.
Fully Untethered Co-op
I'm delighted to re-confirm there will be seamless co-op on offer for the full game, and that this is all Cross-Gen. So whether playing on the newest, or more seasoned gaming hardware, you can enjoy the freedom of playing the entire campaign with a friend though seamless untethered drop-in / drop-out co-op. No getting stuck waiting around in lobbies, we always put gameplay first.
Lastly, we have some awesome co-op surprises in store for you; but that's all I can hint at right now!
- The Volition Team