Saints Row 2023 Roadmap
Let's get on this Road… Map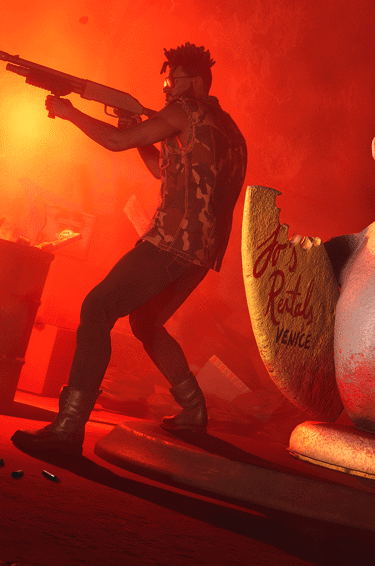 We're super excited to be able to share an update on what we've been working on since you last heard from us. But first, a big THANK YOU to everyone for reaching out on our social channels, we really appreciate all your feedback since launch and we have tried to incorporate what we can into our future Quality of Life updates – which we're incredibly excited for you to get your hands on!
As you know, we've been focusing on fixes and quality of life improvements ahead of releasing our new content. Our last update was a whopper worthy of FBs and we're ready to deliver you an even bigger meal in our next big update in May. So, what have we been up to since then? Well, we've been working hard on brand new Saints Row content and we're now ready to share what's planned for the future. Let's head into our DLC Roadmap.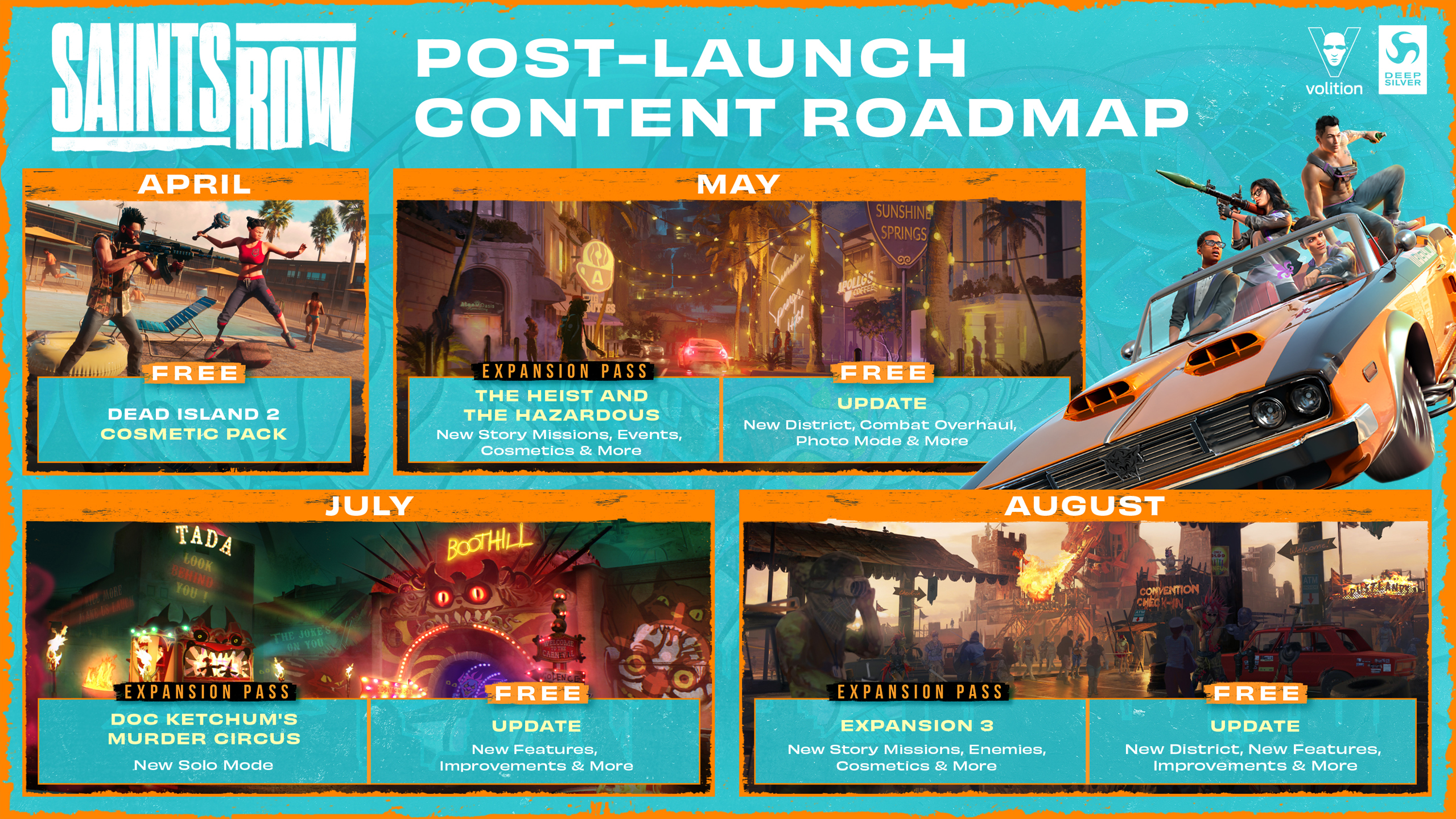 Three is the Magic Number
We know we've been promising new content for Saints Row, and we're delighted to finally be able to tell you we have DLC expansions launching in May, July and August of this year.
Together, these DLC packs will add new campaign missions, gameplay, weapons, vehicles, cosmetics, and more across both new and well-travelled parts of Santo Ileso. You'll be able to buy these expansions separately, but if you own the Expansion Pass they'll be yours when they launch.
Two of the packs will be expansions to the main Saints Row campaign (with all new missions set in all new city districts), following the continuing adventures of the Saints and their enemy factions. And one pack will introduce an all-new solo game mode experience within an (even more) twisted version of one of our favorite areas of Santo Ileso…
We can't wait to show you more on these very soon.
Santo Ileso is getting bigger… and better
So we told you about the new DLC, but what you don't know is just how much work we have put into the main game for everyone.
The new city districts will be FREE for ALL players, meaning everyone will get a chance to explore totally new areas of Santo Ileso this year and the world encounters and activities that come with that whether you purchase the DLC packs or not! We're excited to announce that the first of these new districts is called Sunshine Springs and will land alongside the first expansion in May.
And while there's lots of content on the way for our Expansion Pass players, we're still hard at work refining the Saints Row experience through more quality of life updates, continued bug fixing, and community requested features including a photo mode, retooled combat, a whole new emotes system, and more. Here is the roadmap once more:
May
The Heist and The Hazardous Campaign DLC – comes with the Expansion Pass
Sunshine Springs New District – Free for all players
Quality of Life Update – including Selfie Mode, combat improvements and so SO much more – Free for all players
July
Doc Ketchum's Murder Circus New Game Mode – comes with the Expansion Pass
Quality of Life Update – more to be revealed – free for all players
August
Expansion 3 – Campaign DLC – included in the Expansion Pass
New district – more to be revealed – Free for all players
Quality of Life Update – more to be revealed – free for all players
We'll be breaking down these additions and changes in much more detail in the future.
But before all that, keep your eyes out for some new visitors to Santo Ileso who've dropped in for a special Slaycation…stay tuned!
We're delivering some really great improvements to the existing game and more content for the future we're dying for you to get hands on with our new and improved Santo Ileso – and it's not long now – make sure you're following @saintsrow to hear more from us and get the lowdown on the finer details in the coming weeks.
Keep on Keeping it Strange,
Volition.